Join me once again for this hands-on exploration into starting/rekindling a consistent creative practice that is grounded in joy, ease and fun.
NOTE: this class was previously called Rooted Freedom.
In this workshop, we will explore techniques that will give your practice a daily-ish structure. This will allow curiosity, playfulness and freedom to guide the creative spark that lights you up in the moment.
____________________________________
Testimonial: This course was so enjoyable for me. It kept me motivated in a good way. It did not feel like "homework" and was not stressful. But it gave me that extra push I need to cultivate creative time while having two small children and a home to manage. -SC
____________________________________
The hands-on elements could include any of the following: creating collage fodder, book binding, art journaling, doodling, deck making, nature sketching, stamp making. Each week we will play, chat and explore different ways to approach developing consistency in your practice. Each week you will have homework that you decide on to continue building on the ideas we have explored during the class.
____________________________________
Testimonial: Consie's classes are fun and relaxing. The colorful examples and ideas for creative play are very freeing and the encouragement to just do and see what happens has really helped me to not be afraid to use my supplies. I was in the habit of buying supplies but not using them now I feel more confident to explore what they do. ~Cheryl Nash
____________________________________
A download of my Creative Simplicity Prompt Deck is included with the workshop and will be found in the classroom once you register.
This 5-week LIVE CLASS will take place as follows:
Week 1: Sunday, October 3rd, 2021 from 12pm - 1:30pm EST
Week 2: Sunday, October 10th, 2021 from 12pm - 1:30pm EST
Week 3: Sunday, October 17th, 2021 from 12pm - 1:30pm EST
Week 4: Sunday, October 24th, 2021 from 12pm - 1:30pm EST
Week 5: Sunday, October 31st, 2021 from 12pm - 1:30pm EST
Each week will be recorded and added to the classroom just in case you are not able to attend live.
The deadline to sign up is Friday, October 1st at midnight EST.
My goal in this workshop is to get you to find moments of joy and positivity in your day so that all the chaos around you can be quieted for a little while. It will not go away but figuring out a better, calmer response to it is a start. If we can learn to celebrate those moments and capture them through creativity, I believe we can change our lives. Again, it might not be easy, but it is definitely possible!
IF YOU HAVE BEEN CURIOUS ABOUT:
Feeding all the parts of yourself…
Learning tools for speaking up/self-expression…
Playing and having fun with your creativity…
Allowing imperfection to flourish…
Finding ways to take your foot off of the gas…
…then let's take that leap together! Asking for help is hard AND one of the best things we can do to show ourselves self-compassion. Why try it alone when you can allow me to be a guide on your journey? Join me and other creative cohorts as we give ourselves permission to play, have fun and find joy!
____________________________________
Testimonial: Consie's classes are always fun and non-intimidating. She makes everyone feel welcome and she is so kind and supportive. She doesn't require expensive supplies and she has a never ending supply of creativity! She is a blessing!
Due to the live nature of this class, no refunds will be given.
Available in days

days after you enroll

Getting started!
Available in days

days after you enroll

Replays
Available in days

days after you enroll

Questions, comments and gallery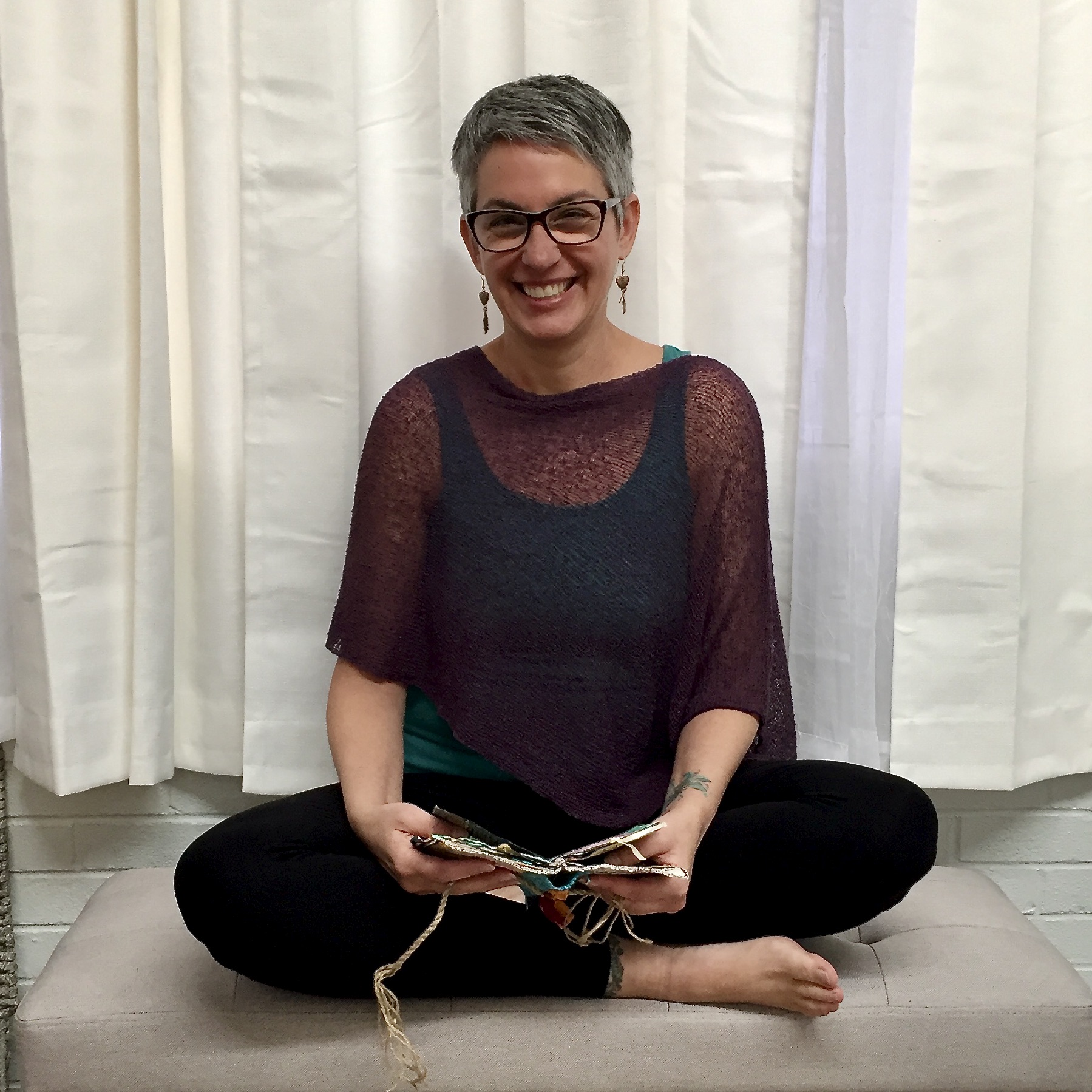 Hi, I'm Consie Sindet, a Creativity Coach and Teacher on a journey. I believe that we should always be learning, growing, trying, failing and embracing the process through it all. While I continue on my journey to try it all, I invite you to come along for the ride. Over my 13+ years of teaching creativity in many forms, I have been part teacher, guide and coach to my students.
In 2014, I discovered art journaling and mixed media, and a new world opened to me. I have found art journaling to be the most freeing way to express myself. After all, it's really mostly paint, paper and glue. Nothing precious. Anything goes. Hate it? Turn the page.
My job is to show you by example through my online classes (and the occasional in-person class!) that you are creative. That you can find freedom, playfulness and joy by slapping down some paint, gluing magazine pages all over a piece of paper, adding some doodling and marks, finding a quote that screams…This is how I feel today!…and calling it good enough.
Every time I create a class, an art journal page or any of the myriad of mixed media projects that live inside my head, I learn something new about myself. I would love for you to join me on this journey. Let me be your teacher, guide and coach and show you how to use the creativity that lives inside all of us!