The Creative Playground is a monthly membership that hosts all of the virtual Creative Playdate replays as well as Member's Only EXCLUSIVE art videos. The Playdates are held via Zoom each month. They feature a fun live tutorial each time! If you are not currently on my email list, click here to be added so you can get notified of the next one.
WHAT'S INCLUDED IN THE MEMBERSHIP: 
All of the Creative Playdates will be hosted here for unlimited access to the fabulous projects.
+
A member's only online class: A Junk Journal
A how-to-create a junk journal is immediately available with more lessons added occasionally that will show you how to:
• paint the cover
• add in more fun elements such as fold outs
• work on the different pages using all kinds of techniques
+
Real-time videos of me creating in the Junk Journal. I will be talking through my process and supplies so it feels like you are live with me in the studio!
+
Fast-motion videos with no talking to give you inspiration in many different types of art journals.
+
Printables such as art papers, tags, journaling cards, etc.
+
Journal prompts to always give you a way to dive into your art journals when you are stuck.
+
A monthly live Art-n-Chat. We meet on Zoom where I'll be working on something creative, you'll be working on your own projects and we can chat! Do you have a question? Need help with a next step? Just want to be around others while you play with your art supplies? Then let's grab this hour together and have some fun! 
+
And, periodically, a Member's Only LIVE Online Class!
+
All new updates will be added by the 10th of each month and an email will be sent to all members as a reminder.
Choose which payment plan works best for you below!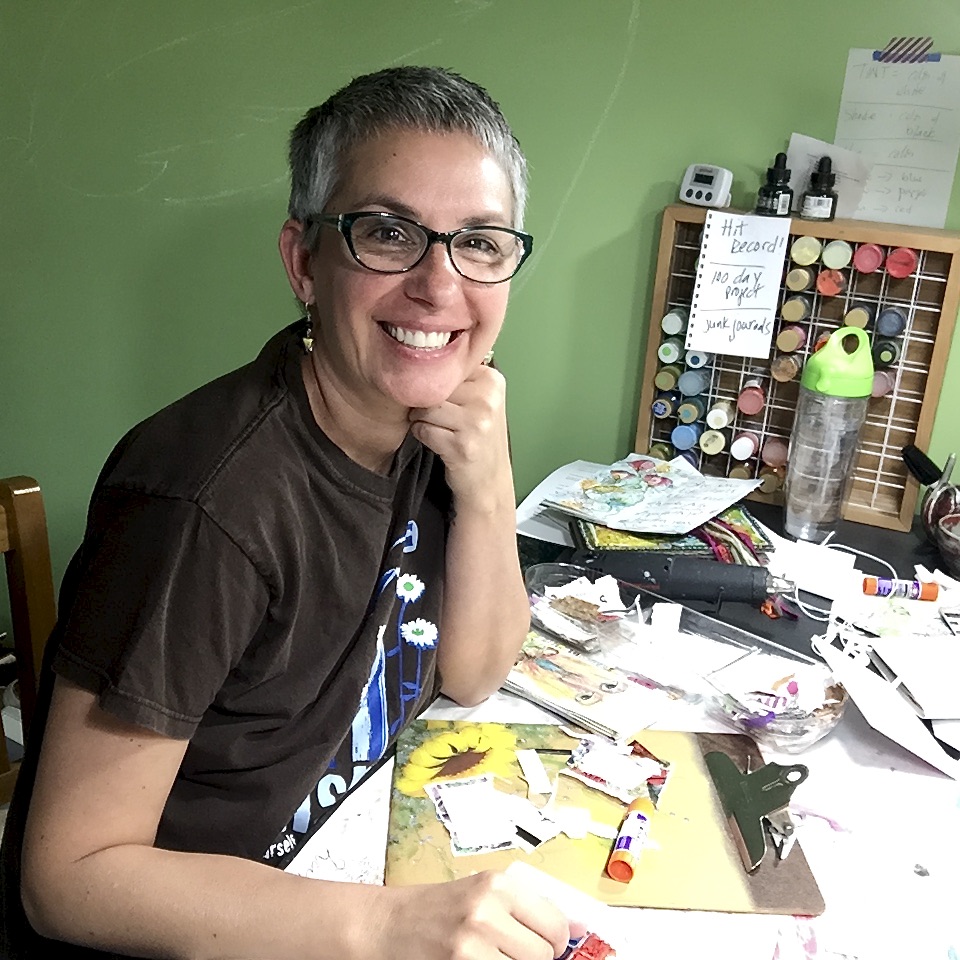 Hi, I'm Consie Sindet, a creative on a journey. I believe that we should always be learning, growing, trying, failing and embracing the process through it all. While I continue on my journey to try it all, I invite you to come along for the ride. Over my 13+ years of teaching creativity in many forms, I have been part teacher, guide and coach to my students.
In 2014, I discovered art journaling and mixed media, and a new world opened to me. I have found art journaling to be the most freeing way to express myself. After all, it's really mostly paint, paper and glue. Nothing precious. Anything goes. Hate it? Turn the page.
My job is to show you by example through my online classes (and the occasional in-person class!) that you are creative. That you can find freedom, playfulness and joy by slapping down some paint, gluing magazine pages all over a piece of paper, adding some doodling and marks, finding a quote that screams…This is how I feel today!…and calling it good enough.
Every time I create a class, an art journal page or any of the myriad of mixed media projects that live inside my head, I learn something new about myself. I would love for you to join me on this journey. Let me be your teacher, guide and coach and show you how to use the creativity that lives inside all of us!